TherapistAssist™ Sleep Lab Solution
Manufacturer Agnostic Approach
In today's environment, diagnostic organizations have to be efficient.  Efficiency, at the cost of a positive patient experience, however, can spell disaster for the patient's chance of success with PAP therapy going forward.
Using the sovaSage TherapistAssistTM software, your team can have the mask selected with the appropriate cushion size already assembled when the patient walks in the door, thereby streamlining your process and ensuring the best possible experience for your patients.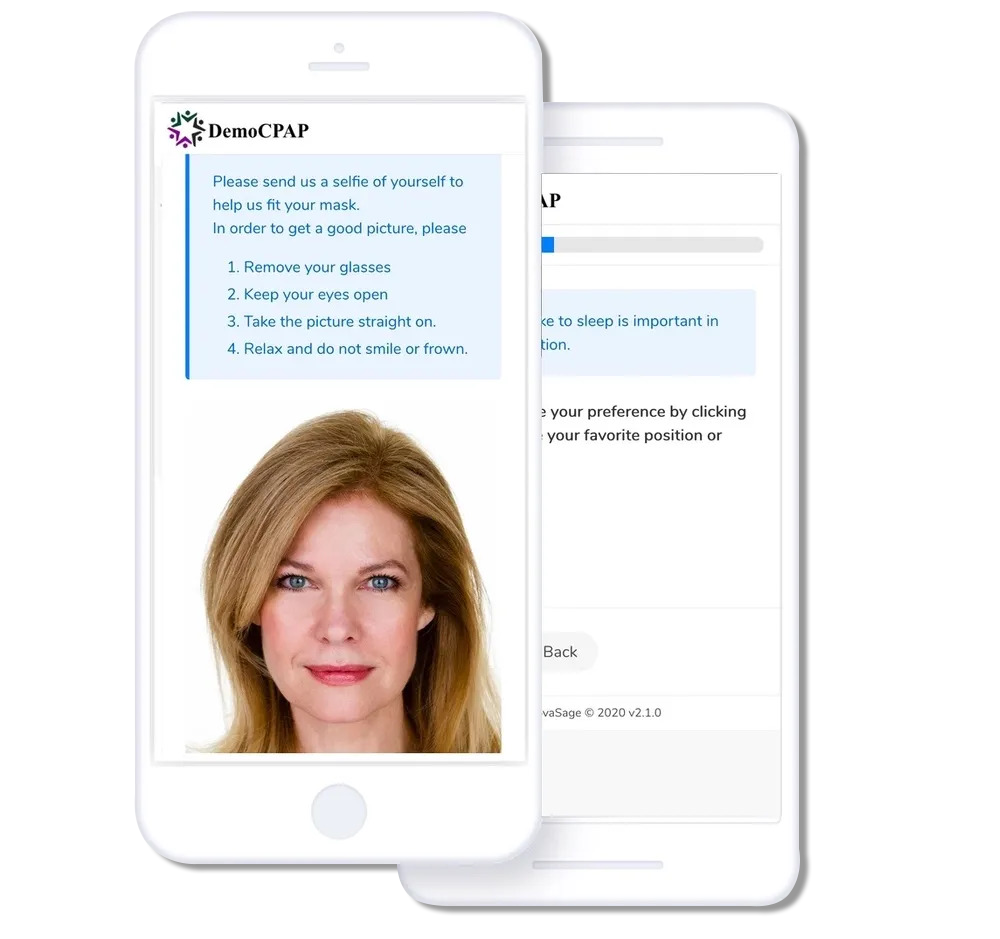 Here are a few of our features that help provide the best possible outcome for your patients:
Manufacturer Agnostic Approach
Once a patient is fitted using the sovaSage TherapistAssistTM software, a new mask may be selected for the patient with no additional steps required for the patient, as long as there are no significant changes in their condition. This takes changes in formulary or new mask introductions into account when selecting the best possible mask for each patient.
The sovaSage TherapistAssistTM software is, by far, the most comprehensive and versatile solution available.  Our software supports your work process rather than forcing you to adapt to ours.
The following processes are supported by TherapistAssistTM and require no special equipment:
100% remote patient set up and mask fitting
Hybrid mask selection and fitting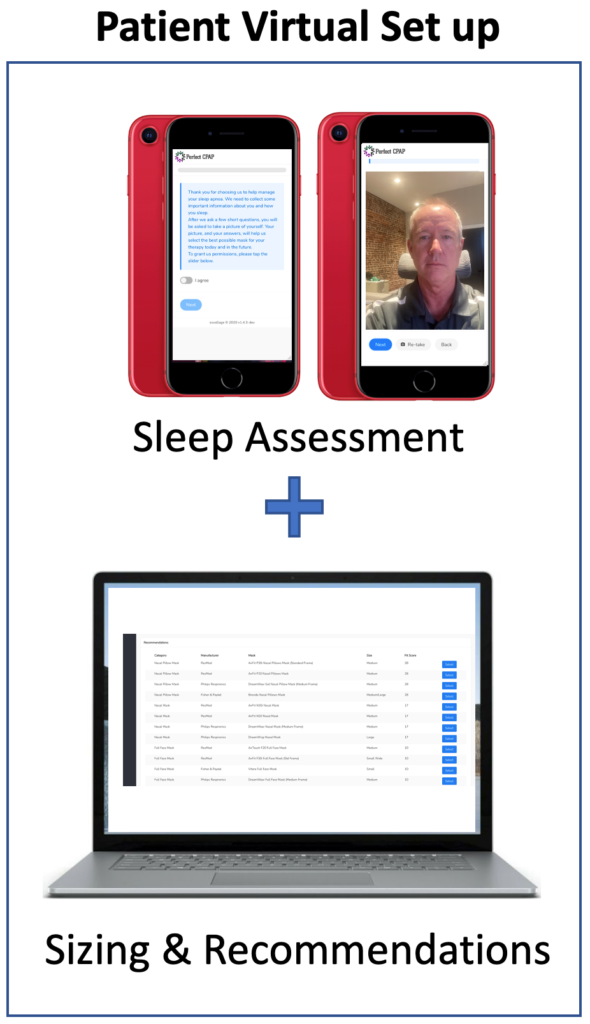 Remote Mask Selection and Fitting
Our virtual mask fitting workflow allows for quick patient setup by the provider. The patient answers a few simple questions and takes a "selfie".
Our patent-pending computer vision technology supports the simplest and most accurate digital mapping of the patient's face and head available. No 3D scan is required, no awkward patient requirements like holding the phone a certain distance from their face and no application to download.
The provider receives a report within seconds, providing a full documentation of the patient mask options and a full menu of sized masks to be chosen from, thereby empowering the clinician to make fast, accurate and effective treatment decisions that are right the first time.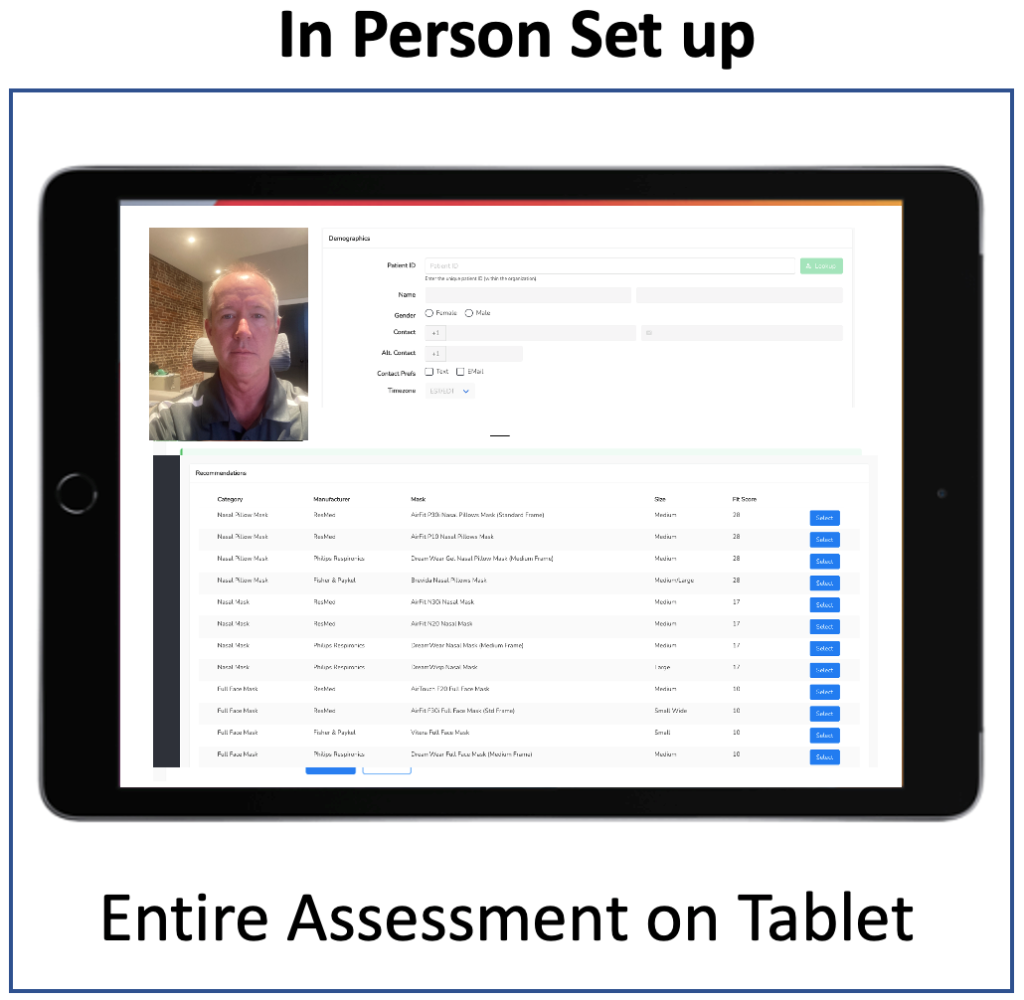 In-Person Mask Selection & Fitting
While the huge majority of patients have become extremely comfortable with remote (or virtual) communication with their providers, that is not always the case, and what happens when a patient walks into your store? They deserve a perfectly fitted and scientifically selected mask as well. Fortunately, the sovaSage TherapistAssistTM software can be used on any tablet device (regardless of brand) using a simple and extremely easy to use web interface. The end result is a fast, accurate and standardized fitting for all of your patients, managed using the TherapistAssistTM software platform regardless of how and when the patient is engaging with your staff.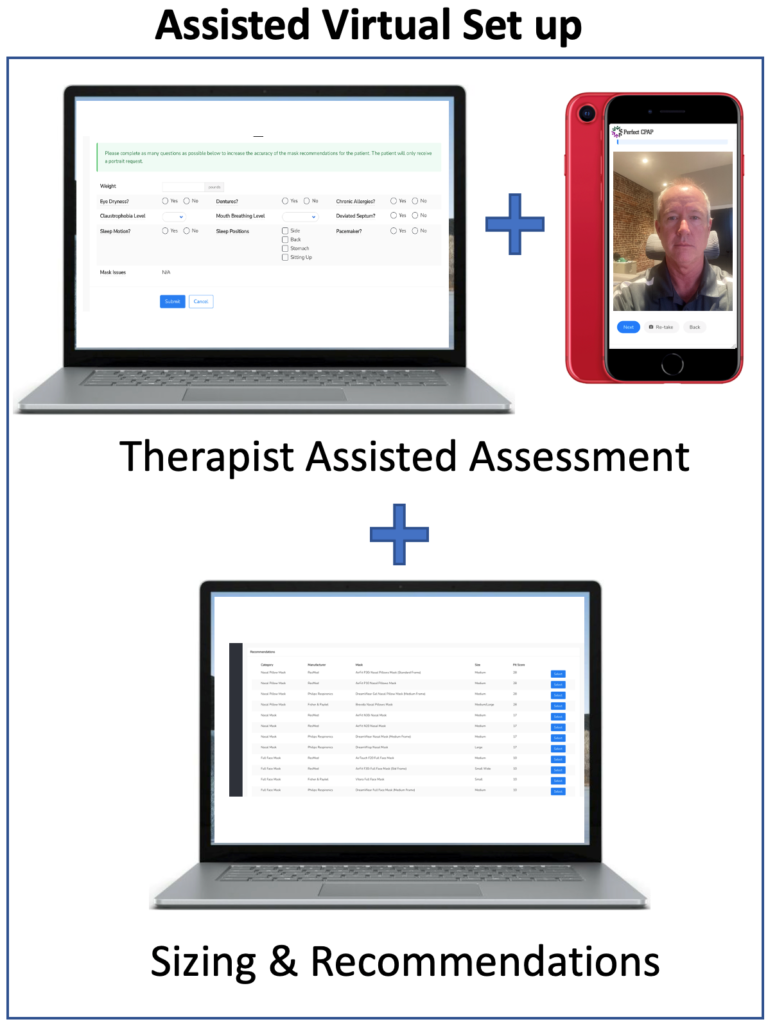 Assisted Virtual Mask Selection & Fitting
Finally, sovaSage offers a provider assisted workflow that allows the provider to ask the patient questions, usually during the initial patient intake process on the phone. The script is customized depending upon the patient script and experience with PAP therapy and the provider answers the questions with a few simple clicks on their computer.
The beauty of our unique assisted virtual method is its speed and simplicity. The mask recommendations are available instantaneously, even before the patient uploads a picture. The patient, on the other hand, just responds to a request to upload a photo – making the process simple, fast and easy for the patient.
All three methods leverage the same software and no special equipment or hardware. The provider – patient interaction is supported in every case and based upon the patient needs, not the needs of the software.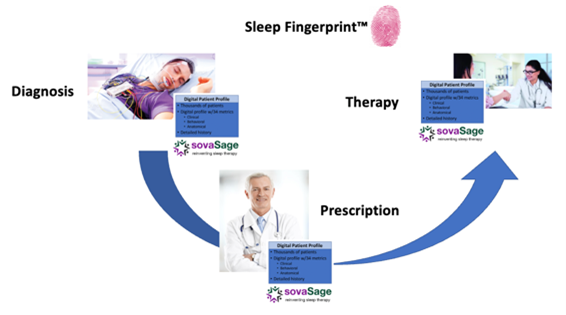 Sleep Fingerprint Referral Process
Once the sovaSage TherapistAssistTM software has been used to select and fit a PAP mask, the digital profile characterizing the optimal mask for each patient may be transferred from diagnostic to therapeutic providers with a simple referral code.
This process allows the sleep lab, the physician and the DME to access the information required to facilitate and support each patient's therapy instantaneously.
No other company has anything like this!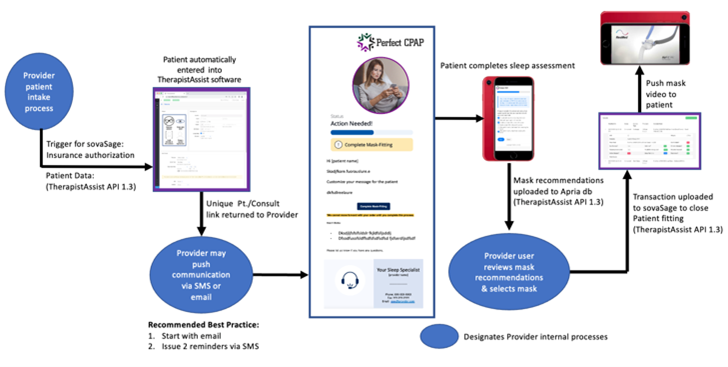 We integrate with various billing software platforms. Comprehensive integration includes the following:
Automated patient upload
 Configurable communication options
Sized mask recommendations uploaded to billing software
Automatic update of mask selected
With end-to-end integration option, the provider need never log into the sovaSage TherapistAssistTM software.
Differentiators – Why we are better!
There truly is no competitive solution that comes close to the sovaSage TherapistAssistTM solution. The points of differentiation are wide and numerous! Here are a few reasons why we are the only choice:
Simple & efficient transfer of mask fitting profile
Once fitted using our product, your patient's "Sleep Fingerprint" can be securely transmitted from lab to physician to DME, allowing for seamless and instantaneous mask selection at every level of care.
Home sleep study assessment
No patient undergoing a home sleep study wants to hear about CPAP masks.  Most do not even know what they are.  For this reason, we offer a separate HST custom version of our product designed to collect the data needed to do a PAP mask selection and fitting in the event that a patient is positively diagnosed with OSA.
Patent-pending computer vision technology
Our patent-pending computer vision technology is simple for the patient, and requires no special technique other than taking a selfie. No special equipment, no app to download, no special instructions and no complicated approval of the photo.
The only algorithm that measures all critical dimensions of your patient's face and head using three separate algorithms ensuring the most accurate cushion and headgear frame fitting available.
Manufacturer independent selection
Our software recommends the mask most likely to work best for your patient. We do not enter into volume agreements with manufacturers or recommend only one brand of mask. We are the ONLY company that can say this.
Our product supports in person, remote or assisted mask fittings, all with no special equipment required.
Most accurate mask selection algorithm
For patients who have had experience with PAP therapy, our patent pending software evaluates their preference including their previous mask experience. We are the only solution with such a comprehensive algorithm and this is part of why we have such low exchange rates.
Your reputation is the most important asset that you have. Why put another company's name in front of your patients? The sovaSage TherapistAssistTM software is custom branded for each sleep lab and may even be branded separately based upon location.
It's time to change sleep apnea therapy – forever!